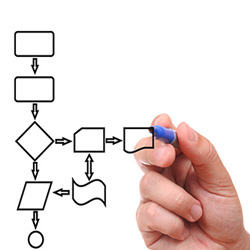 At JIBE we like to do things differently, we realise that everyone's tastes, requirements and budget is different, we listen… we understand the pressures and demands of business in the current economic climate and we will tailor our web solutions to your requirements and not put you into a box like so many others.
Our idea is to keep things simple, we first meet with you for an informal chat about who you are, what you want to achieve and what your budget constraints are. Once we have established this we will provide you a personalised quote for your project and offer a range of optional modules or elements which we think may further enhance things either initially or in the future.
Once you have engaged with us and decided to proceed we begin our 3 stage process towards getting you live;
1. //Design
During the design phase we will get our creative hats on and take into consideration your target audience, the features you need, what your competitors are doing and the styling that you like best to create you something beautiful and totally unique to you. We will continue to work with you until we have the design finalised and ready to develop into a working product.
2. < Develop />
This is where the magic happens! We develop your design into a fully functional product, during this stage we will integrate any chosen modules and make sure the development utilises all available technologies. When completed we will hand over to you on a test server so that you can fully demo the finished articles and suggest any final changes before going live. Once you are happy, we will meet with you and provide training on how to use and updated the finished product.
3. #Distribute
Getting your finished product out there and building awareness can be just as important as the design itself. We will help with this by using our extensive knowledge of Social Media, SEO & Google Ad Campaigns to give your JIBE web solution the attention it deserves and make sure that your customers & potential customers are finding you.